When you step inside the bar, you immediately understand why. The walls are covered in contraptions that seem from the future and the past at the same time. Many who have reviewed the place said they felt as if they had entered a parallel universe. And indeed, the eerie feel of the locale cannot be compared to any other. It not just a décor, but a work of art in its own right and this becomes evident when you notice the attention to detail that went into the design. Clearly, it is worth visiting just for the spectacular interior decoration, apart from the other services like food and drinks.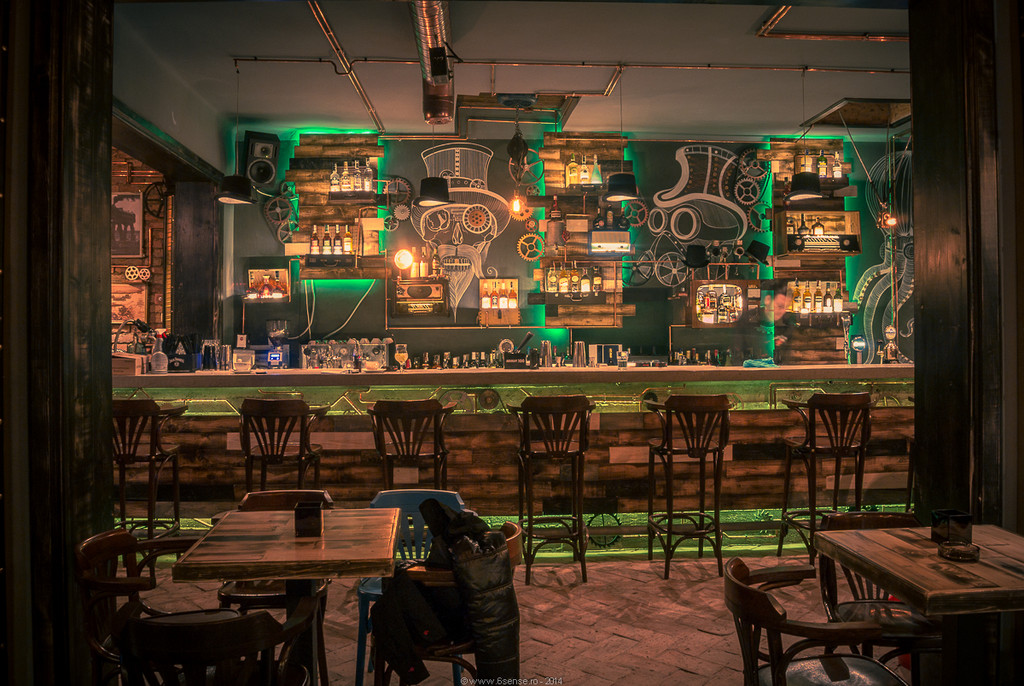 The design was envisioned by Tohotan Alexandru and Zelenyak Zoltan of 6th Sense Interiors and it features steampunk motifs. Steampunk is a literary genre connected to science fiction and fantasy that appeared in the 1980s. The works of this genre are often social critiques that play upon elements of Victorian industrialism and technology. These elements are often reinterpreted from a modern point of view.
The steampunk elements that can be seen in Joben Bistro are brass and copper pipes stretching all over the walls, all sorts of gadgets that resemble the ones described in the books of H.G. Wells and Jules Verne (it has been said that if these authors wrote their works in the present, they would be steampunk). The bar has three rooms, each with a different setting. The first one was meant as a vintage art gallery and has many pictures hanging on the walls. The second contains the bar and many installations. The third room comprises an amalgam of peculiar objects.
Playing on the name of the locale, the designers created lampshades in the form of top hats that illuminate the bar from above. Another interesting figure is a mounted deer head wearing a monocle.
The menu contains dishes specific to a bistro: burgers, beef dishes, desserts and many types of cocktails. Especially lauded are the desserts, of which, foodcrew.ro editors recommend the lava chocolate cake with pears and gorgonzola, served with a scoop of wine ice-cream. The cake is steaming hot and filled with melted chocolate. The pears and gorgonzola are melted with the chocolate, leaving only a smooth trace of their taste.
Sources:
"A jump into a fantastical past: Steampunk pub in Romania takes visitors into the world depicted in Jules Verne novels", Daily Mail, June 8th 2014, Available at: http://www.dailymail.co.uk/travel/article-2651991/A-jump-fantastical-past-Steampunk-pub-Romania-looks-like-space-pages-Jules-Verne-novel.html, Accessed: 08.20.2015.
"Joben Bistro: deserturi interesante şi un decor super cool", Foodcrew, July 23rd 2014, Available at: foodcrew.ro/2014/07/deserturi-joben-bistro-cluj/, Accessed: 08.20.2015.
"Steampunk Joben Bistro Pub Inspired by Jules Verne's Fictional Stories", Freshome, May 24th 2014, Available at: freshome.com/2014/05/27/steampunk-joben-bistro-pub-inspired-jules-vernes-fictional-stories/, Accessed: 08.20.2015.
"Un nou pub inspirat din romanele lui H.G.Wells și Jules Verne", I love Cluj, January 28th 2014, Available at: ilovecluj.ro/2014/01/un-nou-pub-inspirat-din-romanele-lui-h-g-wells-si-jules-verne/, Accessed: 08.20.2015.
"What is Steampunk?", Steampunk, October 13th 2010, Available at: http://www.steampunk.com/what-is-steampunk/, Accessed: 08.20.2015.
"What is Steampunk?", The Ministry of Peculiar Occurrences, Available at: http://www.ministryofpeculiaroccurrences.com/what-is-steampunk/, Accessed: 08.20.2015.