On the night between the 5th and the 6th of December, Saint Nicholas brings presents and sweets to good children and tree branches to naughty children. But even the rods bring cheer, for they are dyed silver (or covered in fake snow) and adorned with crepe paper. He comes with the first oranges and shakes his beard, causing the first snow of the year.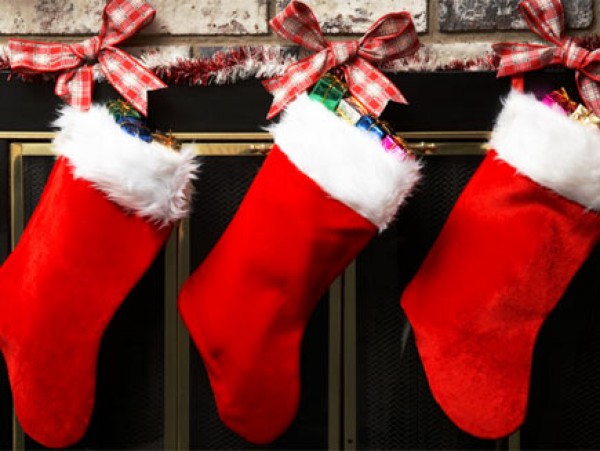 On the evening of the 5th, children prepare their boots and go to bed early. Saint Nicholas looks through the windows of every house, sees the children who are sleeping and leaves presents in their boots. But he never shows himself.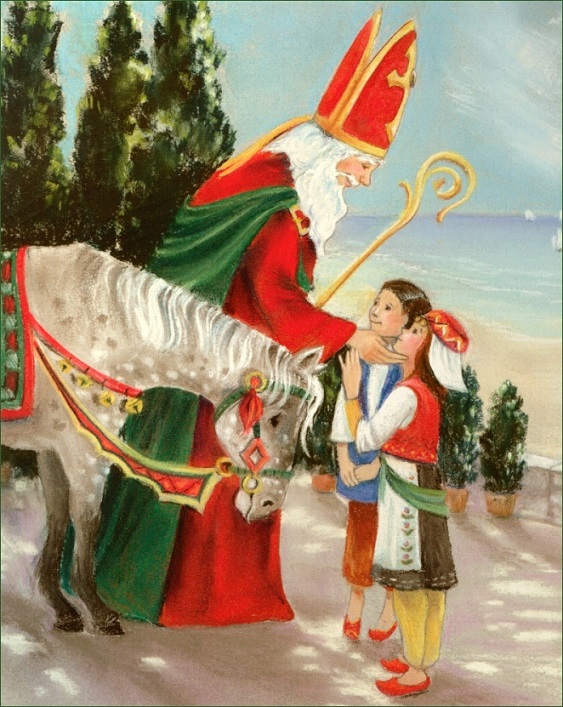 Saint Nicholas was inspired by a bishop named Nicholas, who lived in the 4th century and was cardinal of Myra. He was known for his limitless generosity and his love of children. The legend says that he gave his entire fortune to the needy. Such was the case of three girls who could not get married because their father had no money for dowry. Nicholas, who had become bishop at the time, left each of the girls a bag of gold and then, they were able to find husbands.
When the time came for the youngest to marry, her father stayed up to get a glimpse of their benefactor. He saw Nicholas climb on the roof of their house and drop a bag of gold through the chimney. The bag landed in one of the socks that were hung out to dry. That is why children now prepare their socks or boots for Saint Nicholas.
Bishop Nicholas was sanctified in the 16th century and in Orthodoxy, he is the patron saint of family. He punishes naughty children, so that their behavior may improve. In fact, the legend says that the branch has to be made from the wood of an apple tree and should be placed in water. If it blooms until Christmas, it means that Saint Nicholas has mediated the child's forgiveness.
But it's about more than just the holiday. It's about the whole city coming alive with Christmas lights, Christmas tree ornaments and Saint Nicholas rods being sold on every corner of the street, people becoming cheerful with the holiday spirit, the carols heard in the center of the city, the smell of cinnamon and oranges and the taste of a warm cup of boiled wine. All of these tell us that Christmas is coming.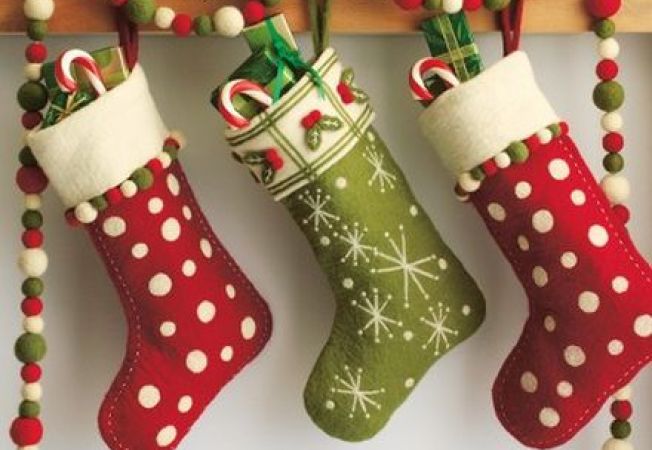 Sources:
"Legenda lui Moş Nicolae", Calificativ, Available at: http://www.calificativ.ro/Legenda_lui_Mos_Nicolae-a17226.html, Accessed: 11.18.2015.
"MOŞ NICOLAE, TRADIŢII ŞI OBICEIURI. Ajutorul celor sărmani şi 'moşul' încărcat de daruri pentru copii", Ştirile Pro TV, Available at: stirileprotv.ro/stiri/actualitate/traditii-de-mos-nicolae-ajutorul-celor-sarmani-si-mosul-incarcat-de-daruri-pentru-copii.html, Accessed: 11.18.2015.
"Povestea lui Moş Nicolae", Despre copii, Available at: http://www.desprecopii.com/info-id-554-nm-Povestea-lui-Mos-Nicolae.htm, Accessed: 11.18.2015.
Darcovici, Miruna, "SFÂNTUL NICOLAE | CE NU AI VOIE SĂ FACI, dacă vrei cadouri de la Moș Nicolae", Libertatea, December 3rd 2014, Available at: http://www.libertatea.ro/detalii/articol/mos-nicolae-sfantul-nicolae-ce-nu-ai-voie-sa-faci-daca-vrei-cadouri-516932.html, Accessed: 11.18.2015.