In this age of globalization, more and more people are having a hard time defining their national identity. There are overwhelming influences coming from more imposing cultures which are hard to withstand. And in an effort to resist this cultural levelling off, the Romanian youth are becoming increasingly interested in those elements that contribute to the uniqueness of our culture. One such item, that is truly one of its kind in the world, is the Romanian peasant blouse called ie [ee-eh].
A facebook group called La Blouse Roumaine came up with the idea to celebrate this piece of traditional clothing in an unconventional fashion. All Romanian girls and women around the world are encouraged to wear an ie on the 24th of June (which has been decided on as the date of the celebration), to take a picture of themselves and post it to their facebook page as a profile picture and to the group La Blouse Ruomaine. Those who want to take part in the movement can also be simple admirers of the Romanian blouse, everyone is welcome. The idea is to dress the entire world in ii for one day.
The holiday is still in its infancy, having been created only in 2013, but grew exponentially to 100.000 members in 2014.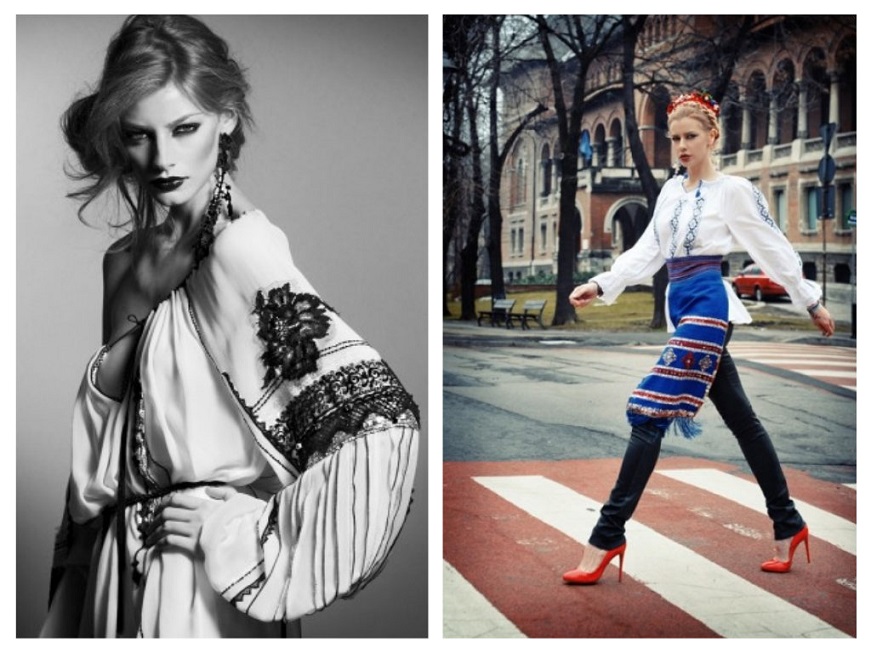 Ia is an item of clothing that signifies femininity. It is handmade and the complex embroidery can take up to three weeks to sew. The patterns are not random but full of meaning for those who know how to read them. Those living in the lowlands use the colours green and gold, those living in the highlands use red, grey and brown, while the rivers are represented by silver. The colours can also vary according to the age of the person wearing the blouse. The married and elder women would wear toned-down colours, while the younger would wear bright colours.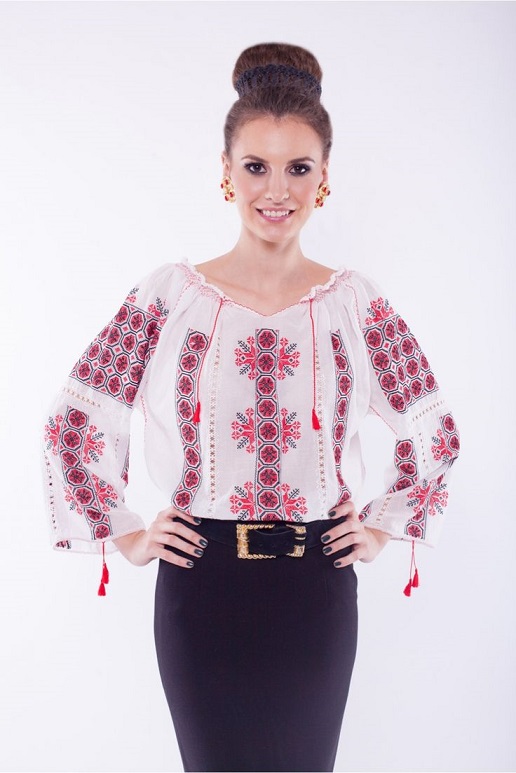 One symbolic element that is often represented on the traditional blouses is the tree, which signifies life, wisdom and renewal. It is sometimes a fir tree in the case of people living in mountain villages, which signifies eternal youth and immortality. The sun is also an important symbol, represented by a circle or a sunflower, as Romanians were originally an agricultural society.
The beauty of the peasant blouse has been acknowledged even by internationally acclaimed artists. Henri Matisse drew a series of paintings depicting ia, the most famous of which being on the cover of Constantin Roman's book, "The Unsung Voices of Romanian Women". In 2012, Tom Ford created a clothing line inspired by the Romanian blouse.
Sources:
"Ia românească, în centrul unei expoziţii prezentate în Belgia", Cooperativa tradițională, Available at: http://www.cooperativatraditionala.ro/ia-romaneasca-in-centrul-unei-expozitii-prezentate-in-belgia/ , Accessed: 07.13.2015.
"Ia – Traditional Romanian Blouse", Facebook/ La Blouse Roumaine, January 13th 2013, Available at: https://www.facebook.com/notes/la-blouse-roumaine/ia-traditional-romanian-blouse/316269438491397 , Accessed: 07.13.2015.
"The Oh-So-Loved Romanian Blouse", 21st Century Morticia, Available at: http://www.21stcenturymorticia.com/the-oh-so-loved-romanian-blouse-2 , Accessed: 07.13.2015.
"The Romanian blouse seen around the world", Byond Dracula, April 15th 2014, Available at: http://www.beyonddracula.com/romanian-blouse-seen-around-world/ , Accessed: 07.13.2015.