The concept of "Boutique Hotel" appeared in the early 80s in cities like New York or London. The type of hotel is characterized by a high degree of privacy, discretion, comfort, personalized services and last but not least by a special aesthetics and elegance of the decorations. Less known in Romania the concept begins to gain ground especially in Bucharest.
Opened in autumn 2010, the Epoque Hotel chooses to approach the concept of "Boutique Hotel" in the idea of originality, individuality and differentiation from the other hotels. The hotel enjoys a favorable emplacement (near the Cişmigiu Park) with an easy access to all attractions in the city center, but hidden from the urban noise.
The architecture and the interior design have been designed in harmony with the architectural landscape of the area succeeding an unitary concept, a mix of refinement and identity. The Epoque Hotel offers its guests a singular structural concept with the generous living spaces, exclusive apartments, which providing all the comfort for work and relaxation, becoming an ideal option for medium and long stays.
The interiors where predominantly are neutral colors are inspired by the neo-Romanian architectural style of the beginning of XX-th century with modern interpretations. The graceful arches and columns bring the space serenity, tranquility and harmony. The uniqueness of the hotel can be recognized by his symbolic signature also: a double tear (a reinterpretation of a traditional symbol - a spoke of the sun wheel) expression of the magical spirit that can be found here.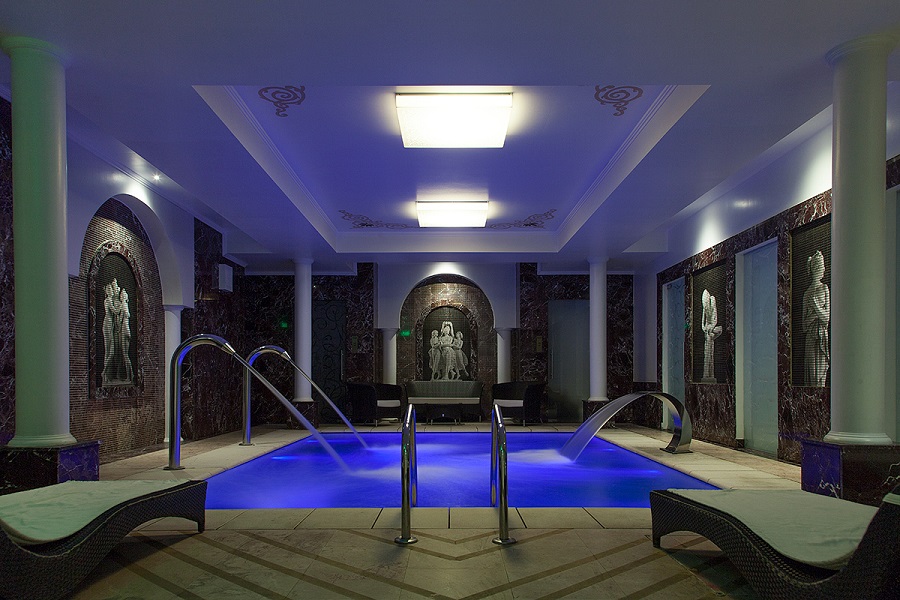 The rooms are equipped with office, living room and luxurious bathrooms. Besides the 45 suites the hotel offers free spa, heated pool, gym, sauna wet, dry sauna.
The restaurant "L'atelier - L'Art Culinaire" led by a French chef offers refined French cuisine which harmonises perfectly with the atmosphere of luxury and refinement from the whole hotel. With great elegance with a special décor in warm tones and bright the restaurant confers warmth, serenity and privacy.
The terrace beautifully landscaped enclosed in the same conceptual context welcomes the guests in the warm periods. The three halls of the center of events: "Epoque Events", "Epoque Galerry" and "Epoque Meeting" with a particular design, special framed by a natural light confers those interested a conducive atmosphere for the conduct of events.
Epoque is the only hotel in Europe located in the top 10 of "Expedia Insiders' Select 2014" (an annual ranking of the hotels with the best reviews on Expedia.com).