On the road between Satu - Mare and Zalău there are the hills of Beltiug with cellars carved in the hill and beautifully situated vineyards, bathed by the sun's rays. Here viticulture has been a tradition for many centuries and this area has earned over the years the name of "Bachus's residence".
The name of Beltiug commune is related to the King Ladislau the Ist of Hungary who, having arrived on these lands, drank wine from a pumpkin and he, in a joking spirit, asked what kind of pumpkin it is. In the Hungarian language Béltek means - "bél" - content, "tek", variant of "tök" - pumpkin. In 1723 Beltiug's estate was bought by Count Károlyi Sándor and later on it was colonized by Swabians from Oberschwaben (Germany) and thus new varieties of vine plantations such as Furmit, Riesling or Chasselas appeared.
In the Northern part of Transylvania, at 38 km from Satu – Mare there is Nachbil Wine Cellar in Beltiug area. The winery was established in 1999 when the Brutler family returned to Romania, after a period of emigration to Germany during the communist regime in Romania (1982).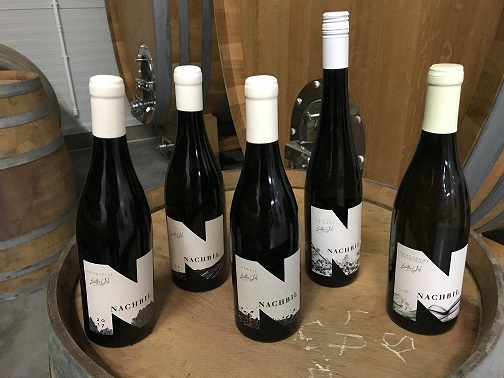 The company founded by Johann and Edgard Brutler in the late '90s developed and in 2002 they purchased the Károlyi cellar (cellar dating from 1730) and renovated it. The Nachbil Winery (etymologically, "nachbil" means "after the hill") has a cultivated area of 20 ha and produces 70 000 liters of wine annually. The cultivated grapes varieties are: Chardonnay, Grunspitz, Pinot Gris, Mustaosa de Maderat, Feteasca Regala, Traminer, Rhine Riesling, Cabernet Sauvignon, Pinot Noir, Blaufrankisch, Syrah, Merlot, Feteasca Neagra. The winery's brand is: Nachbil and La Capela.
Since 2011 Nachbil Winery is oriented towards the production of organic wines, which express as accurately as possible the features of the territory, without the addition of yeasts, enzymes or additives. Nachbil winery produces premium wines, combining modern technology with traditional techniques.
Photo credit:
https://www.facebook.com/pages/category/Winery-Vineyard/Crama-Nachbil-Winery