Places of interest Friday 17 September, 16:25
Places of interest, Itineraries | Tuesday 14 September
Over 300 km of cycling dream along a marked trails, which crosses the site "Natura 2000 the Hârtibaciu Plateau -Târnava Mare
Places of interest | Monday 13 September
The Miko citadel was built between the years 1623 and 1631 by Ferenc Hidvégi Mikó (1585-1635), who was the councilor of Prince Gabriel Bethlen. Its style is late Renaissance, it spreads over a surface of 75 by 70 meters and has 4...
Places of interest, Itineraries | Sunday 12 September
In the Valley of the Kings, which reveals its landscape splendour along the Gurghiu River, starting from the top of the Gurghiului Mountains, vestiges from the Neolithic period have been discovered
Places of interest, Itineraries | Thursday 09 September
The monastic complex Dragomirna - with everything related to it as an artistic creation - marks a distinct moment in the history of the Romanian traditional arts
Places of interest, Itineraries | Monday 06 September
The realm of watermills stretches in the western part of Romania. The natives boast that the flour made by these watermills has a unique flavour. These wonders attract tourists from all over the world.
Places of interest | Sunday 05 September
Slănic Salt Mine, the second largest in Europe, the place with the purest air on the planet - an important tourist attraction
Places of interest | Friday 03 September
The Gugu Peak of the Godeanu Mountains is one of the most mysterious places in Romania. Tourists from all over the world are attracted to "the mountain that disappears," considered a sacred place by the Dacians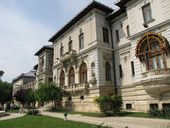 Places of interest, Itineraries | Thursday 02 September
An important medieval construction, used for more than three centuries as a princely, royal and presidential residence
Latest news
Wednesday 01 September
Tuesday 31 August
Sunday 29 August
Friday 27 August
Thursday 26 August
Monday 23 August
Friday 20 August
Thursday 19 August
Tuesday 17 August
Monday 16 August