Places of interest Wednesday 05 August, 04:36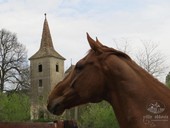 Business, Places of interest | Tuesday 04 August
Although the vast majority of Romanians have not heard about something like this, equestrian tourism in Romania is a delight for foreign tourists who are queuing to take part in such an experience
Places of interest | Friday 31 July
The saltworks can be found 2 kilometers from the town of Târgu Ocna in Mount Vâlcele-Slătinele in the south-west of Bacău County. Târgu-Ocna is known as a health resort, due to the presence of the salworks
Places of interest, Itineraries | Thursday 30 July
Between the counties Harghita and Covasna, at 950 m altitude, is the beautiful volcanic Lake St Ana. It is surrounded by mountains, which are draped in coniferous forests that keep the area cool in the summer. It is the only lake...
Places of interest | Tuesday 28 July
UNESCO World Heritage Site since 1999
Places of interest | Monday 27 July
The oldest property title in existence was given 2000 years ago to Roman soldiers who settled down in the village of Grojdibodu
Places of interest | Saturday 25 July
An entire town flooded by Danube water. Another town built in its stead. The same name: Orsova!
Places of interest, Itineraries | Friday 24 July
The Valley of Iza, the legendary land of the Romanian soul built on faith, love and hope
Places of interest | Thursday 23 July
Lipscani, the medieval heart of Bucharest, became the main artery of promenade of the modern city