Local products Tuesday 30 November, 11:14
Local products | Friday 12 November
Chestnut puree is a classic in Romania. In autumn, when the chestnuts are ripe, most confectioneries sell chestnut puree with whipped cream and it is delicious. But the puree is wonderful even on its own or in other...
Local products | Thursday 04 November
A twisted and hot dough, the Hungarian cake has become ubiquitous in recent years ...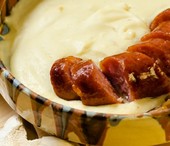 Local products | Friday 29 October
Discover one of the most delicious recipes from the area of Crişana, a historic region in the north-west of Romania
Local products | Monday 25 October
The colors of the Romanian flag, the first three letters of the name of the country and the taste of rum - ingredients that have created a Romanian brand desired by all gourmands
Traditions, Local products | Saturday 09 October
Elder Flower Juice is one of the most appreciated Romanian traditional drinks. It is produces only of natural ingredients that's why its taste is so wonderful
Local products | Tuesday 05 October
A light recipe not only for the cold season, prepared with a novel ingredient, to which vegetables are added in a welcomed combination
Local products, Places of interest | Thursday 30 September
The "burduf cheese" or the "bellows cheese" - the pride of the mountain sheepfolds, the queen of the Romanian cheeses
Local products | Wednesday 22 September
Although the origin of this product is still obscure, several sources, including "The Concise Encyclopedia of Food and Nutrition" indicate that pastrami has Romanian origins
Latest news
Monday 20 September
Wednesday 15 September
Saturday 11 September
Friday 10 September
Tuesday 07 September
Monday 30 August
Wednesday 18 August
Tuesday 10 August