Franco – Romanian – Săhăteni Domains are situates in the center of Dealu Mare region and it covers an area of 45 hectars. The company was founded in 2000 at the initiative of Denis Thomas, owner and winemaker from Bourgogne region, France.
In 2003 the vineyard plantation was converted into organic viticulture and in 2006 the company obtained the first bio certificate in Romania. The technology used on the entire surface of the domain is bio - monthly. Ecological culture promotes the respect for the environment and it allows the development of plant and mycrobial biodiversity, using natural forces. The grapes are processed using traditional techniques to obtain a high quality wine.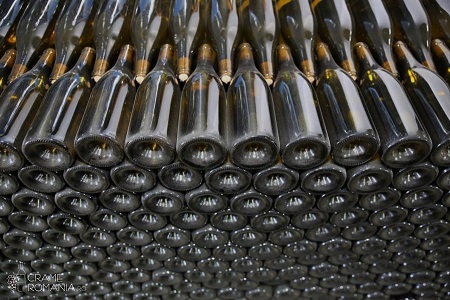 The cultivatd grapes varieties are: Chardonnay, Riesling, Fetească Albă, Sauvignon Blanc, Tămâioasă Românească, Pinot Noir, Fetească Neagră, Merlot. The company's brand can be found in the following wine collections: Crai Nou (range of organic wines with Dealu Mare Controlled Origin Designation), Chateau Pietro, Les 4 Tours, Terre Precieuse (aged wines in oak barrels), Cuvée Or.
The wine cellar is located in Săhăteni commune, Buzău County, and on request, tastings and walks are organized in the hills between the vineyards or those in front of the Carpathian Mountains, in order to have a complete experience of the place and the wine produced in this area.
Photo credit: https://www.facebook.com/pg/Domeniile-Franco-Romane