The papanași or the dessert dumplings can be cooked in a number of different ways, but the result is always incredible. With cheese or fruit, sour cream and cherry jam, they are the ultimate comfort food.
Although generally considered a traditional Romanian dessert, its roots lie in Austro-Hungary. While the boiled dumplings did in fact originate in Austria, the fried ones are of Moldovan origin. But no matter where they come from, there is a wide array of new and improved dumplings recipes in Romania, that you can try out until you find your favourite.
There is also a nice little legend (that, surprisingly, comes from Denmark) connected to this dessert. It says that once upon a time, a captain was having difficulty steering his ship to avoid some dangerous waves because he was trying to eat a doughnut at the same time. In order to have use of both his hands, he stuck the doughnut on one of the spokes of the rudder. And supposedly that is where the hole in the doughnut comes from (although there are dumplings without one).
Dumplings can be cooked in three different ways: by baking, boiling or frying, but because space doesn't allow, we have chosen only one delicious recipe, which you can find below.
Baked dumplings with sour cream and cherry jam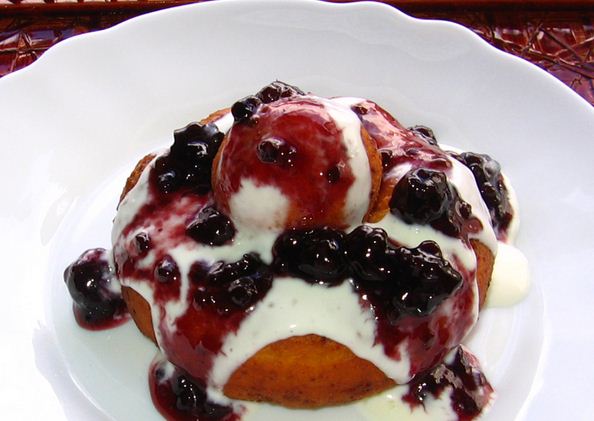 For this recipe, you will need 400 grams of fresh cottage cheese, 2 or 3 eggs, 5 teaspoons of vanilla sugar, one teaspoon of powdered sugar, 3 tablespoons of semolina, a sprinkle of salt, 100 grams of butter, flour, cherry or sour cherry jam and some baking paper.
First, you boil the semolina in some water. While that's cooking, mix the cheese and eggs, and then add the vanilla sugar, the powdered sugar and the salt. When the semolina has finished boiling you can add it to the composition as well as the butter and flower.
Now, to make the dumplings, you take small amounts of the mixture and mould them into balls. Place them onto the baking paper, in the tray, making sure to leave a little bit of space between them. Put them in the oven for 40-45 minutes and then, serve them with a big dollop of sour cream and cherry jam.
Enjoy!
Sources:
"Legenda papanașilor", Gustos.ro, Available at: http://www.gustos.ro/sfaturi-culinare/bucataria-romaneasca/legenda-papanasilor.html , Accessed: 09.08.2015.
"Papanași la cuptor cu smântână și dulceață", Național TV, September 13th 2014, Available at: http://www.nationaltv.ro/lumea-ntv/papanasi-la-cuptor-cu-smantana-si-dulceata , Accessed: 09.08.2015.
Dino, "Papanași moldovenești cu smântână și dulceață", Rețete-Gustoase.ro, February 26th 2012, Available at: http://www.retete-gustoase.ro/link.php?article_key=522688971 , Accessed: 09.08.2015.