The Manuc's Inn is one of the oldest inns of Bucharest, a beautiful building that has stood the test of time. Renovated and transformed several times, still managed to keep much of the original architectural features. Manuc Bei, a wealthy Armenian (becoming "bei" thanks to Sultan Mustafa IV) was the one that raised the inn in 1808.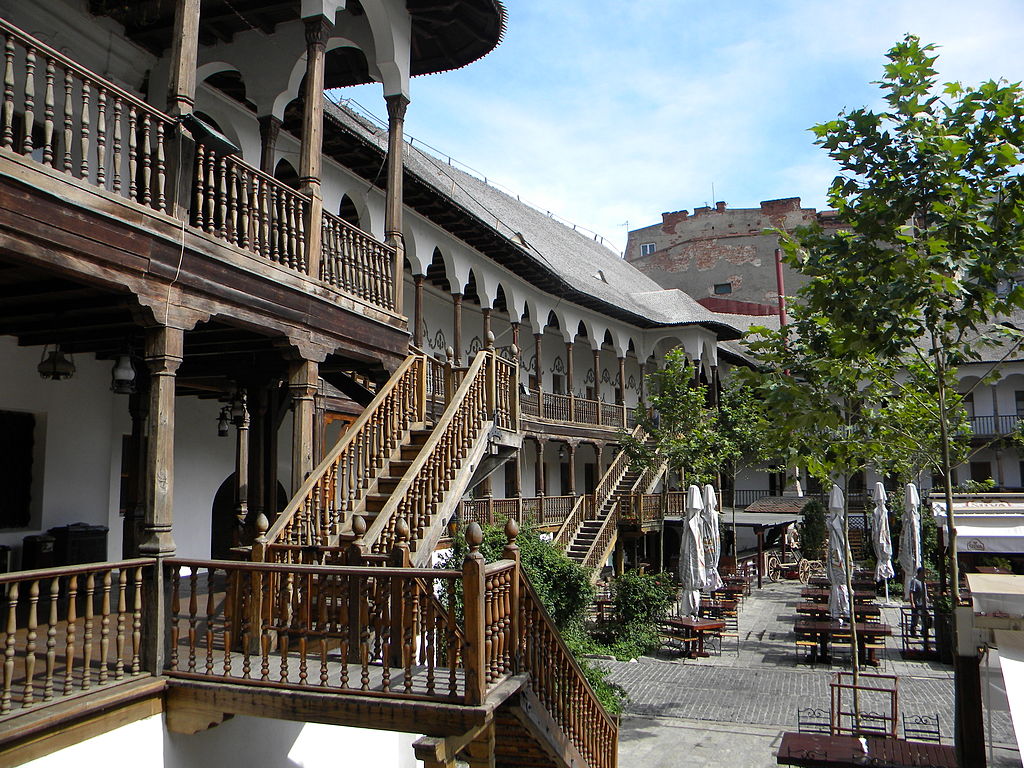 It was an renowned inn in that era, both due to its innovative architecture, different from other Inns and legends created based on the personage Manuc Bei. Located in an area full of history, himself a partaker of important events, later became "historical monument", the inn rises towering over two floors, with the face to the quay of the Damboviţa river.
The entrance on the French Street , does not bode yet the beauty of the inner courtyard. Stepping on a bridge from oak, discover a place that takes you into another world and another time. Once in the yard, you oscillate between sit down at a table there, or climb to the wooden porch, beautiful ornated, which surrounds the first floor. Here, merchants from all over the world made stopovers, people and carts, some only encamped, others rent rooms upstairs as it spent more time in the city.
Throughout the length of the ground floor and first floor, there were opened porticoes supported by wooden pillars, including carved arches. Two large-scale, with wooden bulwarks balusters, have provided access to upstairs. The doors and windows had the stucco ornaments, above and below. In the courtyard there was a coffee house and a small garden with fountain.
In 1812, in the "Voievodal (princely) Salon " was signed the peace treaty that ended the Russo-Turkish war. In the "Dacia Hall" before World War have gathered great personalities of the time and have discussed the problems of the country.
Today, the Manuc's Inn is an ensemble consisting of: Manuc Bistro, Manuc Levantine, Cerdac (porch), Garden Inn, Voievodal Salon, Crama Manuc (winery), Manuc Restaurant, Inn Room and Hotel.
Information and photo: www.hanulluimanuc.ro