The Lechnița vineyard gained its good name during ancient times for its wine production; mentions about this vineyard are in the writings of Herodotus from the 6th century BC. The Lechinta vineyard is located between the hills of Someșul Mare and Mureș Rivers, in the North - East part of the Transylvanian Plateau. Nature has placed in the heart of Transylvania the perfect conditions for the production of an exceptional wine that captures the uniqueness, beauty, tranquility and wildness of this land.
Jelna Village, situated at 5 km from the town of Bistrita, houses on its territory the winery with the same name, founded in 1992. The winery has an area of 26 ha and produces 80,000 liters of wine annually. The cultivated grape varieties are: Feteasca Alba, Feteasca Regala, Muscat Ottonel, Sauvignon Blanc, Pinot Noir, Traminer Rose, Pinot Gris, Neuburger, Italian Riesling, Chardonnay. Jelna wines are fresh, exquisite and with character. The winery's brands are: Jelna Wine Cellar - Transylvania's Mark and Dealu Negru by Jelna. Transylvania's Mark are wines produced from the grape varieties: Sauvignon Blanc, Feteasca Alba, Feteasca Regala, Muscat Ottonel and Pinot Noir.
There are mentions about the Jelna wine in the local church archive. In 1520 there are notes about the master Petru Murator who painted the walls of the church and receive as payment barrels with Jelna wine. Dealu Negru (Black Hill) by Jelna represents crafted wines that enhance the specificity of the land, capturing in its aromas the beauty and savagery of the place. "It is our reverence towards the nature, wildlife, tranquility and beauty of this area from the hills of Calimani" said Darius Pripon, the winemaker.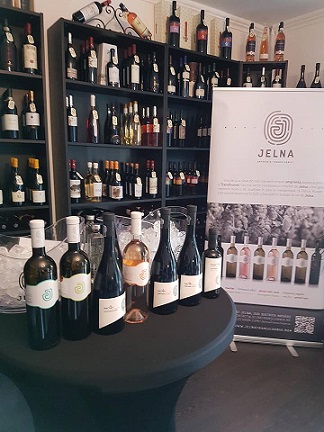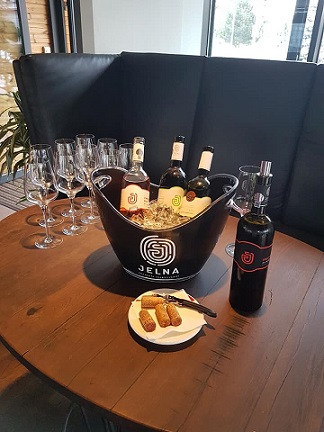 Jelna Wine Cellar won the bronze medal in 2018 at London Wine Competion with Sauvignon Blanc and Feteasca Albă received the bronze medal with 88, 5 points at the "Top 100 Ingenious Romanian Wines" in Brasov.
Jelna Wine Cellar has a new range of production, called Navicella, named after the local mural paintings from the local evangelical church, a replica of the mosaic of Giotto from the Basilica of San Pietro in Rome. It will be a red wine, a blend aged 14 months in Romanian oak barrels and a white wine - a Romanian blend from the 2018 harvest.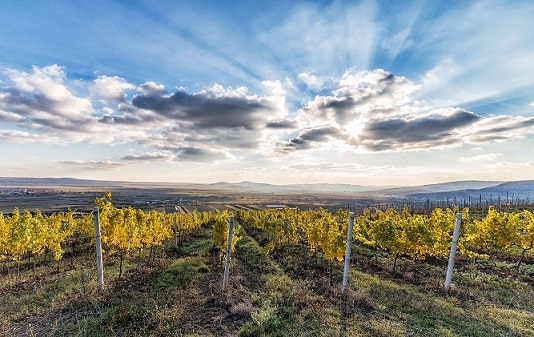 The development future plans for Jelna Wine Cellar has a new range of products called: Jelna's Orchid, the production of cider and redcurrant wine. The cider produced at Jelna will use the apple plantation on an area of 17 ha and the redcurrant wine will use the Californian method, exclusively from fruits with a double fermentation.
To complete the oenological tourism experience the owners have 62 ha of forest and a fish lake, so that the tourist eager to capture the spirit of Transylvania will have some unique experiences.
Photo credit:
https://www.jelnatransilvania.ro/