Chicken with mushrooms and sour cream is a very common recipe all over Romania, but it is more customary in Moldova. Like many recipes, it has variants, one more complicated than the other, but it is often the case that a few ingredients that are fresh and well combined can make a far better meal. Such is the recipe we are going to present. And it is as tasty as it is simple.
You will need the following ingredients: 800 g of chicken, 50 g of butter, 1 onion, garlic, 400 ml of sour cream, 500 g of mushrooms, dill and salt.
You start by washing the chicken very well. It is advisable to mix many different bits of the chicken, but you can also use just legs or wings. Not breast though, because it is too dry! Then you chop the onions, the garlic and the mushrooms. You put a pot on the heat, melt a knob of butter in and throw the onions, garlic, chicken and mushrooms all in. You let everything simmer until the meat is very tender.
In the meantime, mix the sour cream with the finely chopped dill and with 2 or three cloves of garlic. Pour the mixture into the pot, sprinkle some salt and let everything boil for another minute or so. Then turn off the heat and start stirring the composition. And the meal is done.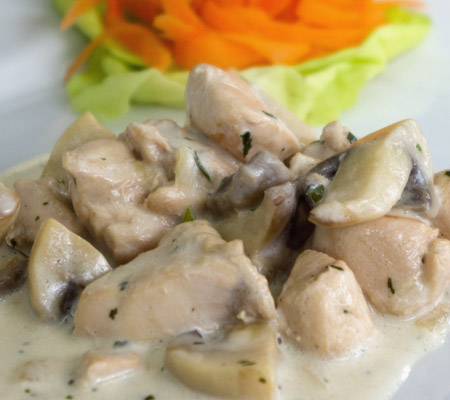 Alternatively, you can boil or fry the chicken beforehand, and add it to the frying onions, mushrooms and garlic at the end. The mushrooms can also be fried beforehand and added to the pot at the same time as the sour cream. You can also add flour to the composition, although it is optional. You can either roll the meat in it before frying or put it into the sour cream and mix it in well.
Also, it is very important not to replace the butter with oil, because the latter does not mix very well with sour cream. And if you want to make the meal truly irresistible, add some cut up roasted peppers.
Bon appetit!
Sources: http://www.costachel.ro/pui-moldovenesc-cu-ciuperci-si-smantana/