Ceptura winery, part of the holding Bostavan Wineries Group, from the Republic of Moldova, is one of the most modern wineries in Romania. Vine plantations cover an area of 180 hectares in Dealu Mare Vineyard, in Ceptura, an area that enjoys two weeks of sunshine more than other wine regions.
The history of the winery begins in 2002 when the Moldovan concern acquires an old winery from Dealu Mare area, they also own the Purcari and Bostavan Wineries and also the Bardar brandy factory. In 2004 began the modernization of the winery and in 2005 the first Ceptura wine was produced.
The Ceptura Winery covers an area of 180 hectares and produces annually 2 million liters of wine, 4 million bottles and processes 10,000 tons of grapes per season. Cultivated grape varieties are: Merlot, Feteasca Neagra, Cabernet Sauvignon, Pinot Noir, Feteasca Alba, Chardonnay, Riesling, Feteasca Regala, Sauvignon Blanc, Syrah, Muscat Ottonel.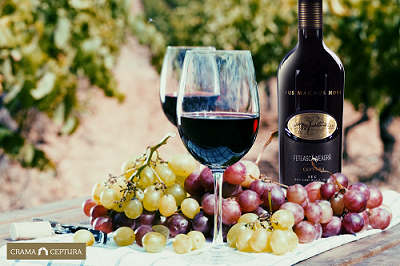 Ceptura Winery is proud of its range of wines with a particularly graphic design: Cervus Magnus Monte, Astrum Cervi, Cervus Cepturum, Soapta Calugarului (Monk's whisper). Sangele Ursului (the Blood of the bear), Casa Mare (The Big Dwelling).
In 2019 the Ceptura Winery won the gold medal at the Vinarium - International Wine Contest Bucharest with the Feteasca Regala Magnus Forte Ceptura and at the International Wine Contest - Bucharest - 2019 it obtained 4 gold medals.
Ceptura brand products are exported worldwide to countries such as Switzerland, Germany, Greece, Italy, UK, Spain, Canada, USA and China.
About the vineyards of the Ceptura Winery it is said to be blessed by the sun and from time to time, the deer, the king of forests, descend here, as a sign that the wine has been ennobled. Discover the experience of an exceptional wine with your friends in a glass of Ceptura wine.
Contact: http://www.crama-ceptura.eu/
Photo credit: https://www.facebook.com/CramaCeptura/