Apold - Gorgandin Wine Estate is located in the Western part of the Sibiu County and it is one of the most famous wine region from Romania. There is used traditional vine growing method and in 2007 began the project of re-planting the vineyard at the Farm in Apodu de Sus village with the two plantations: "Trupul Fata Mare" (Virgin Body) and "Trupul Gorgan" (Gorgan Body) which started production in 2010. The vines for the new plantations came from Italy, from the Vitis Rauscedo Agricultural Cooperative.
At 28 kilometers from Sibiu city on the way to Sebeș in the Apoldu de Sus Village is Gorgandin Wine Cellarand, established in 2009, it is part of the Transilvania viticultural area, with the controlled origin denomination Sebeș - Apold. It has an area of 62, 06 ha and produces annually 40 000 liters of wine. The cultivated grape varieties are Muscat Ottonel, Pinot Grigio, Italian Riesling, Sauvignon Blanc, Traminer Aromatico.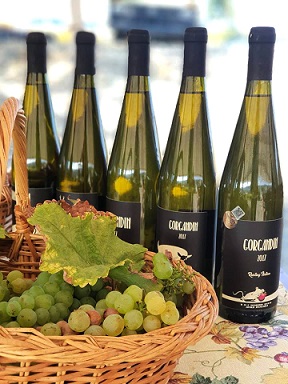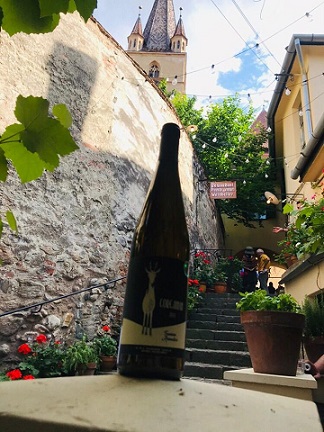 The Wine Cellar brand is Gorgandin a wine shaped according to the grape variety it came from and a Rose wine variety Roze of Apold Madmoazela and an Up Old sparkling wine. Gorgandin wine has been associated with several important events such as the Sibiu Rally or the Sibiu Cycling Tour, but it also accompanies the gastronomy and tourist experience of the city from the heart of Transylvania. Thus, the Gorgandin wine is associated with the Apfelhaus Cisnădioara, a guesthouse, situated at 12 kilometers from Sibiu, providing a quiet oasis in the heart of a Saxon settlement with isolated farmhouses and exquisite gardens.
In the center of Sibiu you can experience the traditions and the authentic Romanian gastronomy, accompanied by a glass of Gorgandin wine and traditional Romanian music at the restaurant "La Dobrun", which has a capacity of 350 places. Maria Theresa Mansion from Orlat, a 5-daisy guesthouse, enhances the beauty of Sibiu and the special taste of Gorgandin wine. In Sibiu at Supporter Sports, Pub and Grill, you may find the ideal host for sports events, anniversaries or thematic parties, where you can taste Gorgandin wine.
If Sibiu city and the surroundings come across your path, try the Gorgandin wine experience in a setting according to your soul.
Source and Photo credit:
https://gorgandin.ro/