The Dinar Restaurant found in the student campus, close to down town Timisoara, brings traditional Balkan recipes and dishes for the first time in Romania.
The simple beauty of items used in old times can be seen all over the restaurant, where the indoor is arranged and designed by the use of wooden armchairs, chairs and benches, each with a different appearance, cart wheels, chairs made of various objects, chandeliers made of twig baskets, carpets woven by hand or peasant blankets used as window drapes; they all contribute equally to creating an authentic atmosphere.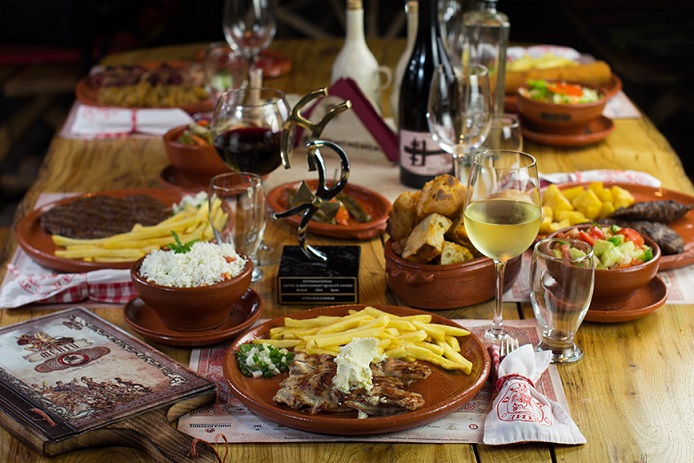 And if the weather gets warm, the terrace covered in stone, wood and flowers and adorned with various traditional Serbian items awaits the guests to enjoy the goodies of Balkan cuisine. The culinary experience can include dishes such asćevapčići, Karadorde cutlet, pljeskavica, sour soups and pies, Serbian sarmale (Balkan dish made of meatballs covered in cabbage leafs) to which one can add the famous kajmak wonderfully completing the meat dishes, as well as Choka-style flatbread and bread.
Even if the Serbian cuisine focuses on meat, be it pork, beef or chicken, the restaurant also has available custom-made dishes, attuned to the needs of the clients, be they vegan or vegetarian.
The list of wines and other renowned alcoholic beverages includes recognized local, international and private labels, as well as the legendary slivovitz, the beverage of Serbian heroe.