This name hides the idea of capitalizing on the touristic potential of the former Roman Castrum called Porolissum, which is located in the vicinity of the city of Zalău, Sălaj County. Porolissum is one of the best preserved archaeological sites in Romania but has not really been put to good use thus far. This will change as Tiberiu Marc, president of the County Council, intends to introduce the castrum in a European tour of the Roman Emperors, which would also include Bulgaria, Serbia and Croatia.
The plan of Dacia Porolissensis Holiday is to build an entire city from the ground up, taking as model Roman buildings that have been discovered either in Zalău or in other areas of the country. The buildings will function as restaurants or bed and breakfasts, and will all be meant to sustain tourism in the region.
There will be a total of 12 buildings being rebuilt, plus a few temporary places for the spending of free time, including a playground and a wooden Roman castrum. There are other types of activities planned, like historical reconstructions, artistic camps, film reconstructions, hiking and horse riding.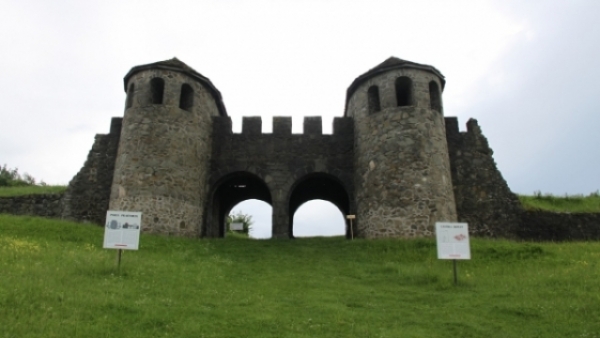 The reason behind this endeavor is that archaeological analysis has shown that there are noteworthy buildings in this region and they should be restored for tourism purposes. The turnover would then be used to finance further archaeological investigations.
Porolissum is an old city founded as a military camp by Roman emperor Trajan in 106 A.D. In 124 A.D., it became the capital of the province Dacia Porolissensis, created by Hadrian. It was built here as a means of defense for the main passageway into the Carpathian Mountains. Initially it was made of wood and manned by soldiers from Spain, Gaul and Britain, but over the following decades, it was rebuilt from stone.
The Romans withdrew from Dacia in 271 A.D., but Porolissum continued to be inhabited, and what is more, the dwellers had a peaceful relationship with the surrounding villages, despite the city's military origins. Excavations begun in 1977 have uncovered military installations, public baths, a customs house and roads, while the main gate (Porta Praetoria) to the former castrum has been rebuilt.
Sources:
"Dacia Porolissensis Holiday prinde contur", Regio TV, July 1st 2015, Available at: http://www.regiotv.ro/administratie/dacia-porolissensis-holiday-prinde-contur, Accessed: 10.06.2015.
"Porolissum", Wikipedia, Available at: https://en.wikipedia.org/wiki/Porolissum, Accessed: 10.06.2015.
Matei, Tudor, "Proiect inedit! Un oraş antic va fi reconstruit în Sălaj", Active News, July 2nd 2015, Available at: http://www.activenews.ro/video/Proiect-inedit-Un-oras-antic-va-fi-reconstruit-in-Salaj-119588, Accessed: 10.06.2015.
Tesinschi, Augusta, "Dacia Porolissensis Holiday – Atracţii noi pentru turişti la Complexul Arheologic Porolissum", Magazin Sălăjean, July 1st 2015, Available at: http://www.magazinsalajean.ro/eveniment/dacia-porolissensis-holiday-atractii-noi-pentru-turisti-la-complexul-arheologic-porolissum.html, Accessed: 10.06.2015.