As the "Plescoi sausages", the mutton pastrami appeared as a necessity of preservation of the meat for a long time, through salting, seasoning and smoking. The shepherds are those who have found this solution and over time it has been turned into a recipe for the preparation of the so called pastrami.
Initially, the pastrami was made only from sheep and goat meat, but later appeared also the pastrami of pork, beef, venison, turkey, goose etc. The product was adopted by several kitchens in Europe, Asia and America.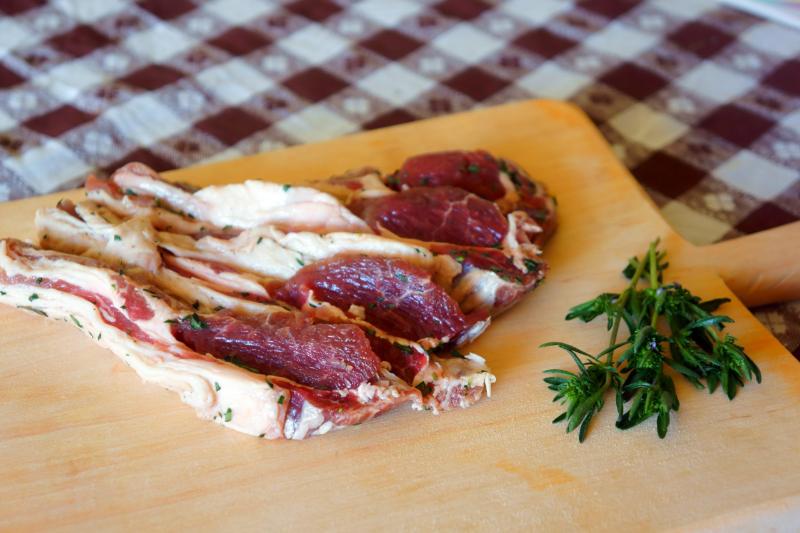 The Romanian pastrami was usually prepared in autumn, when the sheep were slaughtered. The meat removed from the bone was put in brine, in a wooden barrel, and covered with yellow earth. In this way the meat was preserved till spring and resisted until autumn. The pastrami was eaten well roasted, with polenta and along with a carafe of "must" (unfermented wine). Later, the recipe has been improved with the addition of spices and the use of new procedures of maceration.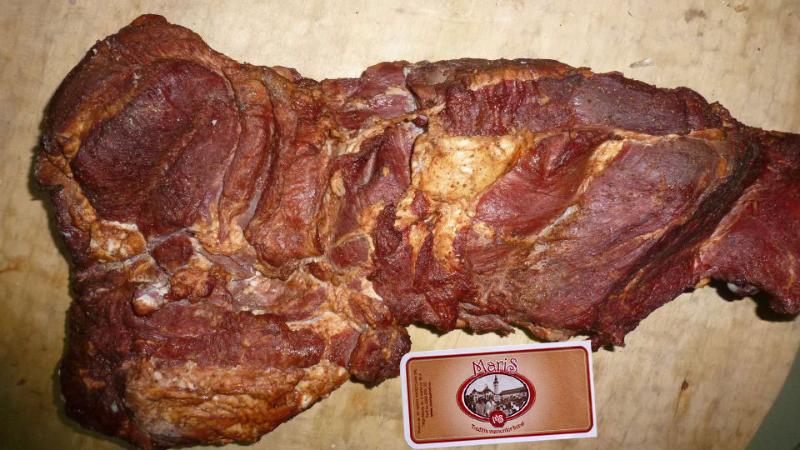 Traditional pastrami recipe:
Remove the meat from the bones and discard the fat, add salt and place the meat in a recipient over a bed of salt and then cover it with another layer of salt.
After 5-6 days, remove the excess of salt and put the meat in cold water for 2 hours.
Drain the meat and place it between two planks for pressing, for one day. Prepare a mixture of garlic, thyme and coriander; impregnate the meat with this mixture and leave to soak for another day.
Then put the meat to dry in the open air and eventually fumigate it. It can be prepared grilled or pan-fried, and it is the best when is served with warm polenta.
In the recent recipes are included a stain made by a mixture of spices (pepper, paprika, cloves, allspice, mustard seeds, etc.) and possibly wine (instead of water), in which the meat is left to macerate for 5-6 days, and then left to dry.
Sources & photos: