The Căldăruşani Monastery was built between 1637 1638, by the will of the Matei Basarab (1632-1654), ruler of Wallachia, on the site of an ancient hermitage, near the village Căldăruşani.
According to tradition, Matei Basarab, after an armed conflict with Vasile Lupu, ruler of Moldavia, while crossing the Vlăsiei Forests he discovered a dilapidated wooden church, inhabited by an old monk. The monk, who was a "spirit-seer", recognized the ruler, although he had never seen him before. Moreover, he predicted the end of the conflict between the two rulers, in favor of Matei Basarab, who has had to build in those places, as gratitude, a church dedicated to St. Demetrius.
The conflict ended with the reconciliation of the two Romanian and Matei Basarab built in just four months, a church of brick and river rock, in a wonderful place, on a peninsula in the middle of the lake Căldăruşani. The settlement was designed to become a fortress, with the church placed in the center, with three rows of cells for the monks, a watch tower and fortification walls.
Built according to the Byzantine model, the monastery is impressive, both in terms of size and in terms of the architectural beauty. Beyond the church and the cells, the monastic ensemble includes also: the eastern wall, the bell tower and the cemetery church, located in the north of the monastery. On the right side of the entrance there is a vaulted cellar, built of brick, which dates back before the year 1637.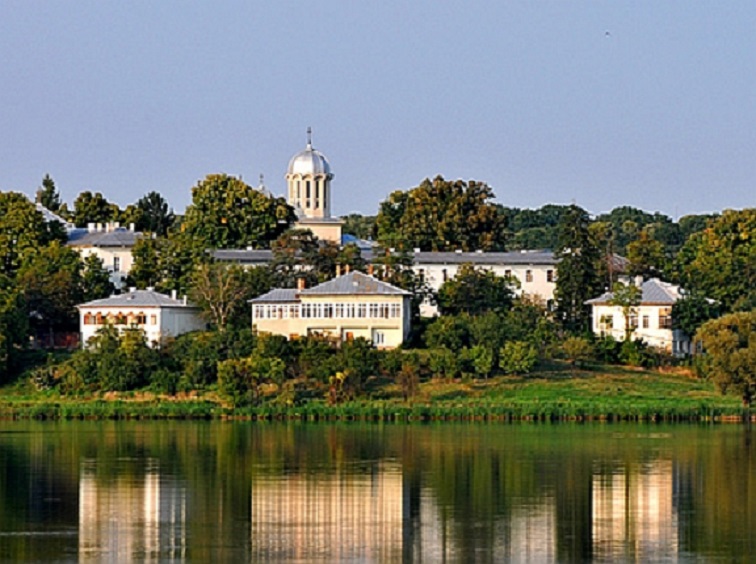 Above the cellars there is the old throne room, which now houses the Treasure Hall. Here are exhibited priceless objects such as: crosses, chalices, bishop vestments, gold and silver embroidery, candles, icons, silverware. These, along with the grandiose library, which contains thousands of manuscripts and religious books in several languages (Greek, French, Italian, Romanian) gives the monastery, in addition to the historical and spiritual value, an immense cultural value.
For those who want to find a place full of peace and blessing, where they can meditate and resonate with the nature, with the beauty and the spirituality, the Căldăruşani Monastery is the ideal place.
Sources: www.manastirea-caldarusani.ro